Training Services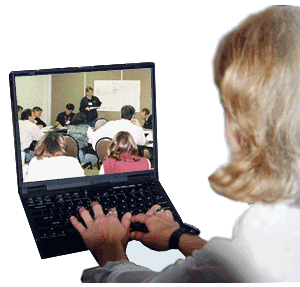 IOSTC has combined the power of interactive technology and years of experience in environmental education and training to develop state-of-art cost effective E-Learning training solutions for oil spill response and management. In addition to our training applications, we work with our clients to define their training needs and develop appropriate training courses including classroom, interactive, and field training. IOSTC also develops training management systems to facilitate and enhance environmental management and by so doing improve both efficiency and safety.
Advantages of Interactive Training
Consistent delivery of information.
Cost effective solution - significant savings over instructor-led, face-to-face training at different locations by reducing costs such as travel, meals and lodging. This method also reduces costs related to training administrative and management support by automatically measuring and recording various data relevant to the progress of trainees. Click here to compare the costs of traditional classroom training to interactive training.
Higher learning absorption rate - the training modules use interactive feedback, hence improved comprehension and retention of knowledge.
Broader range of information is provided in an easy to learn animated format.

Availability of training seven days per week, 24 hours per day at the user's fingertips.
Testing/Scoring - Feedback is immediate with the training modules.
Instant update and information delivery on new products.
Self-paced Training - users can move through the lessons at their own pace. Reviewing forgotten or unclear material is just a matter of clicking on the 'topic' or 'menu' button.
Self-directed Training - allowing trainees to choose content appropriate to their differing interests, needs, and skill levels.
IOSTC's Advantages
Customization
- IOSTC training applications are designed as a modular structure to allow simple cost effective customization.
Train-The-Trainer
- IOSTC training applications are designed as Train-the-Trainer kits, providing instructors with powerful tools to customize the training for specific requirements and integrating other training tools and presentations.
Innovation
- IOSTC training applications have been developed to provide a flexible approach to oil spill response training. Courses can be used by an individual or can be set up to provide a standard company-wide training program. The individual user is assigned a unique password so that only that person can access their individual training file.
Quality - IOSTC training materials have been prepared by internationally recognized leaders in oil spill response training who have conducted many hundreds of courses worldwide.

User Flexibility - Users can take the course at one session or can progress on a step-by-step basis through the individual modules and spread the training over a period of time.

Certification - The Knowledge Test can be taken over the Internet to obtain a Course Completion Certificate. This test can be configured so that one individual can participate as part of a standardized company-wide certification program.

Adaptation - The contents of the training course can be tailored to meet the requirements of a specific location or type of operation such as offshore operations, onshore operations, marine oil spills, or river oil spills.

Basics of Oil Spill Response
IOSTC's Basics of Oil Spill Response training module is available as a CD-ROM, Intranet application with Learning management System; it could also be could be accessed at our
E-Learning Portal
. The training course can be used in place of or to supplement classroom activities and also as an introduction or refresher to other oil spill response training activities. The applications is designed as Train-the-Trainer kit, to allow trainers to reach larger audiences with consistent information.
The program has been designed to provide a first level introduction training course that covers eight topics: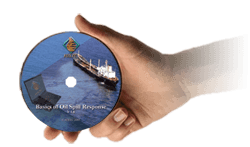 Properties of Oil
Behavior of Oil
Oil Spill Management
Response Strategies
Response Techniques
Spill Response Equipment
Surveillance and Monitoring
Contingency Planning
Safety
These topics follow the basic material that is covered by the IMO Oil Spill Preparedness and Response Training Course.
Desktop Version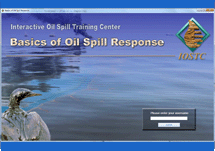 This version is installed on one computer per license. Users can track the progress of their training.

This version of the training program is recommended for small scale companies with one or two locations.
Intranet Version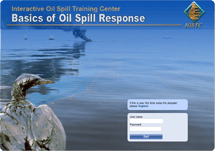 The Intranet version is installed on your local area network and does not required user registration.

Users track the progress of their training and receive a certificate of completion after completing the course.
Intranet with LMS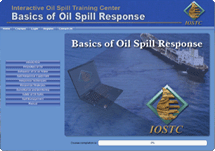 The Intranet version is installed on your local area network. Users are required to register. Users track the progress of their training and receive a certificate of completion after completing the course. This version includes a complete Learning Management System. Administrator can track learners' progress, add customized quizzes, and additional training modules.
Web Access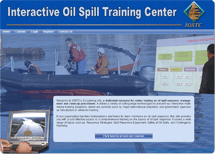 Basics of Oil Spill Response training program could be accessed from IOSTC's E-Learning Portal for hourly fee. This is recommended for individuals or small scale organizations.